MediMergent is Shaping the Future of Healthcare with Cutting-Edge RWE Solutions
We harness the power of advanced proprietary technologies to align clinical data with the story being told by patients themselves.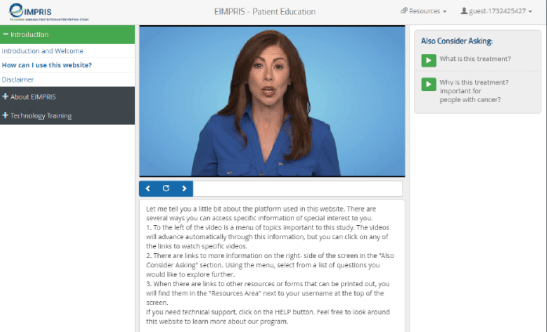 Pioneering RWE Solutions: A Step into the Future
MediMergent's Applications Transform the Healthcare Product Life Cycle
Our suite of RWD solutions is utilized in the management of clinical trials to revolutionize drug development, increase value-based care for providers, and generate powerful, actionable insights for improved decision-making.
Learn More
MediMergent's Breakthrough Suite of Applications
Proprietary Tools Enhance Patient Engagement, RWD Collection, and Advanced ML/AI-driven Analytics
Our next-generation technologies including biometric sensors, virtual humans, and augmented reality, enable us to collect nontraditional data that are pivotal in building a new always-on Voice of the Patient platform.
Let's get started
Clinical Trials Solution
Empowering Stakeholders to Find the Truth in Data
Our robust suite of customizable applications and databases transforms the process of managing decentralized and traditional clinical trials. With our highly advanced validated instruments, we capture information directly from the patient and integrate it with Real World Data (RWD) from traditional sources of "proxy" data. This provides untapped insights in support of clinical outcomes. It is a pioneering approach that includes patients' full story of their integrated healthcare journey and establishes the truth of their reality. Our use of these fit-for-purpose innovative digital health technologies supports all FDA guidances related to RWE, trial design, and changes in Good Clinical Practice.… Read More
Features and Benefits
improve patient enrollment, retention, and time to data lock in clinical trial design
implementation of interoperable cost-effective processes
immediate availability of data in real-time for quality review and insights
Patient Engagement and Shared Decision-Making Solution
Where Patient-Centric Innovation and RWE Intersect
Our MediMentor™ platform supports patient engagement for advanced RWD collection and analysis, education, and support. Deploying ML/AI-driven algorithms, biometric sensors, and augmented synthetic virtual humans, the MediMentor™ system enables provider organizations to scale patient interactions, ensure consistency and accuracy in messaging, and control costs while promoting meaningful contact with patients. MediMentor™ can be customized to be integrated with the MediManager™ platform for use in clinical trials.… Read More
Features and Benefits
intelligence, integration, and data interpretation
individualized patient healthcare to support personalized medicine
improve patient interaction for education and counseling
improve health economics
Population Health and Analytics Solution
Where VoP Humanizes Traditional "Big Data" to Achieve Actionable RWE
MediMetrics™ is our comprehensive data analytics and aggregator platform that facilitates a wealth of patient-centric insights. Leveraging our centralized repository of multiple sources of structured, semistructured, and unstructured RWD, MediMetrics™ applies proprietary ML/Al algorithms to normalize data and advance decision making. Supplemented with tokenization, our curated data provides stakeholders with breakthrough insights regarding how the Voice of the Patient impacts drug development, value-based care, personalized medicine and improved outcomes.… Read More
Features and Benefits
interdisciplinary infrastructure
impactful evidence on patient-directed healthcare (personalized medicine)
integration and interpretation of "Big Data"
insights into disease treatment and economics
Using the MediManager™ platform is a paradigm shift in the way our center manages our trials. Everything is digital. No human monitor came to our site for a study start-up or close-out visit. We had to adjust to the fact that all our data were being monitored, almost real-time, as soon as we entered it on the platform. The biggest difference…the patients were providing most of the non-lab data directly. Interesting to read things from their perspective.
Clinical Coordinator
Our biggest take-away from using the MediManager™ platform—the Company knew about select patients' symptoms, AEs, hospitalizations before we did. They picked it up in real-time when the patients completed their surveys on-line. Having the patients actively involved in the data collection kept them in the study.
Clinical Coordinator
We are Rewriting the Book on RWE
Let's Discuss Your Next Chapter.